HOW TO START A RADIO STATION
A Guide to Radio Programming
Radio programming is an art mixed with proper decision making and teamwork. Unlike college radio (non-commercial) where there is no structure and is based on a "do as you want, when you want", commercial radio carves out a much bigger and brighter piece of the pie. This is in part because commercial radio stations are in this business to capitalize on an income stream. Commercial radio stations which are correctly programmed will find a long successful path ahead within their business model.

Programming a radio station is the process of decision making and selecting the proper songs that each DJ will play over the course of the broadcast day/week. At the fundamental level, this is done in two parts. The first part is to organize your radio station's music library into categories. These radio industry categories are NOT based on the genre of music, but rather how new the song is (base on its radio release date), how popular it is with listeners and how often the radio programmer wants the song to be aired.

Typically, within the radio industry, these categories are called "Heavy", "Medium", "Light". These names are based on the rotation songs received within each category. For example, you have a "Light" category for songs which typically receive 7-14 spins per week. Then there would be "Medium" category (14-28 spins per week) for songs that were previously "Light" (or newly added to playlist) a couple weeks ago and are proving itself to be popular with listeners. Furthermore, you will have a "Heavy" category which would then consist of songs that are at their peak and deserve to be highlighted more than all other songs. Some stations, especially within the CHR format (also known as Top40) may also have a category called "Ultra". This "Ultra" are songs which get even more than "Heavy" rotation. Have you ever been listening to the radio and said to yourself "Did I just hear that song?". Now you know why.
 
Other categories which make up a radio station are termed as "Recurrent". "Recurrents" consists of "Oldies", "Classics", "Gold", and many more which we won't cover now as these categories are not reported on your "Current" playlist and the music industry as a whole does not concern themselves with "what used to be". They are focused on their current marketing campaign, not what happened several months (or possibly years) ago. All you need to know is that within your "Recurrent" category you should include songs that are now months past their peak, but still somewhat popular. Additionally, songs that are older than 6 months, but will remain in rotation at the station endlessly.
Now that you have categorized all the songs in your music library, the programmer will create a "radio clock" that is basically a template for one hour of broadcast time. This template will dictate when and how often a song from a specific category will be played during a particular hour. For example, a basic layout for a radio station may look like this:
Top of the Hour – Your Radio Station ID
Heavy
Light – Newly Added
Advertisement
Recurrent – Oldies
Medium
Light
Radio Station News

Nowadays, all this is automated, so it is extremely easy to use the radio station categories to randomly select songs within each category and determine what to air based on this "radio clock" templating. Additionally, it is easy to add additional features to a "radio clock" for example, do not play a song by the same artist within a predetermined amount of time. All in all, the radio station DJ does not have to select or be familiar with the categories, the radio station's computer programmers your broadcast list of songs to be played every hour. You can even dive deeper into programming your radio station by implementing multiple "radio clocks" for different times of the day.

Isn't this restricting the radio station?
Some new DJ and programmers feel that properly programming a radio station as this feel strictive. This, however, is only because they simply do not understand the science behind programming. We, as humans, are not very good at accepting randomization and will always be drawn towards familiarity. So correctly programming a radio station will ensure all songs are evenly aired throughout the day. Additionally, many radio stations are committed to playing a particular number of new songs each day, so programming the station ensures that those commitments are met. There are particularly good reasons for radio stations to be correctly programmed. This has been tested and proven successful since the first programmed broadcast in 1920.
Get your radio station reporting status today.
YOUR RADIO STATION CHECKLIST
first step To starting a radio station
Apply for a frequency
Apply for a license
Establish a source of funding
Decide on your concept
Brand your station
Check copyright laws
Get equipment for your radio station
second step To starting a radio station
Knowing your audience
Retaining and growing your audience
Making it easy for listeners
Keeping content fresh
Staying legal
Focusing on quality
Getting started with compiling your playlist
A playlist
Radio airplay charts are widely used throughout the entire radio and music industry. These are the most used tools available to both radio stations, as well as record labels to plan their marketing strategies.
A playlist impacting the radio airplay charts should reflect your station's current music ONLY. No "Recurrents" should be reflected on your playlist. "Recurrents" are songs which are no longer being promoted by the record label and/or record promoter. The number one release on your report should have received the most spins at your station for the week, followed in descending order in spins. The STS system will automatically sort your playlist for you according to spins.
Your playlist should reflect overall station airplay, including new adds and drops. Playlists may include unlimited amount of song titles, but you are limited to 99 spins per song. All station must support all major and independent label new releases which are being properly promoted.
You may update your playlist 24hrs/7 days a week., however take note to the radio industry deadline of Tuesdays, 12noon (PST) of each week.
RADIO INDUSTRY DEADLINE
12 noon (PST) every Tuesday, 52 weeks a year.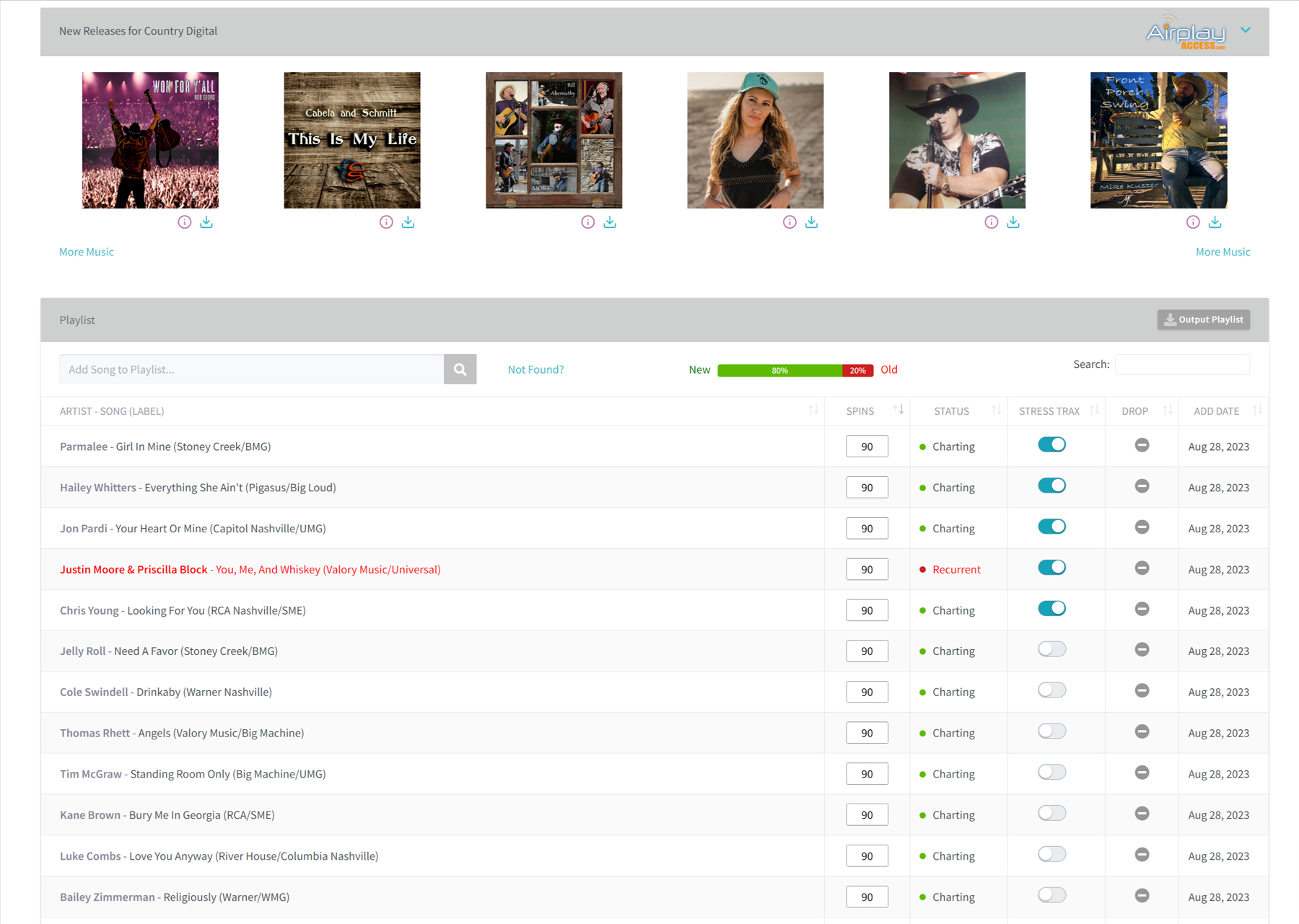 Entering your playlist
Once you enter your initial playlist it will be retained for you within the STS system from week to week automatically. You will be able to access your account and make updates and changes fast and easily. (Average playlist update takes approx. only 2-3 mins per week) 
* All playlist information is sent to STS in real-time.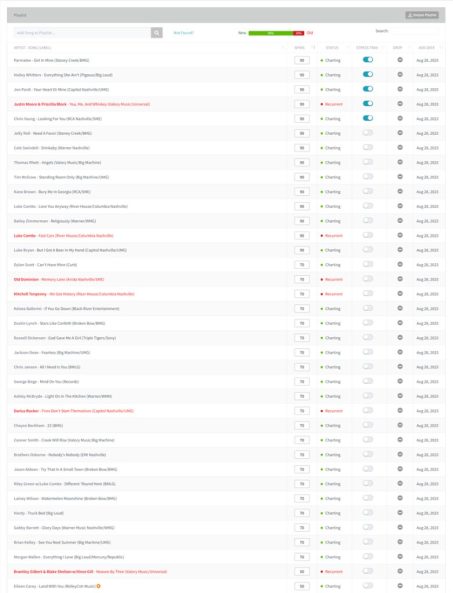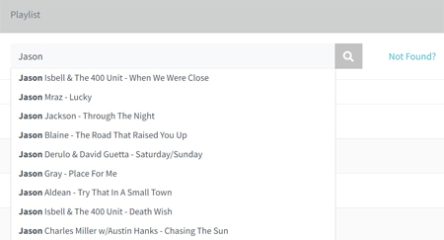 Using the "Add Song" box
STS does NOT use "The" at the beginning of band names. For example, you would enter "Wallflowers" and not "The Wallflowers."  

Be aware of possible alternate spellings of bands and artists as well (e.g. BK Davis vs. B.K. Davis), so try a different combination before entering new artists and their songs on to your playlist.

Various Artists, Soundtracks are entered using "Various Artists" as the artist field.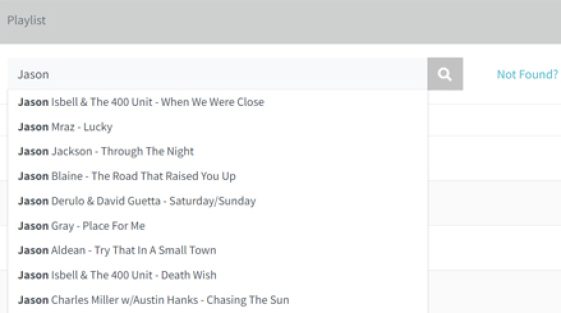 Adding songs
1. Enter artist name in the "Add song to playlist" box. Enter the first few letters to get a list of artists to select from.
2. Notice artists corresponding to these letters become available for your selection. Highlight artist to "add".
3. Enter amount of spins in the "Spins" box.  This will be automatically registered with STS upon entering spin count.
4. You may change spins as needed by simply adjusting their spins number
An artist/song is not found?
If no match is found in the "Add song to playlist" box, you can simply place the song in the "No Found" box
Simply fill out the information within the box and select "Add to Playlist".

If you do not know the label name you may use a "?"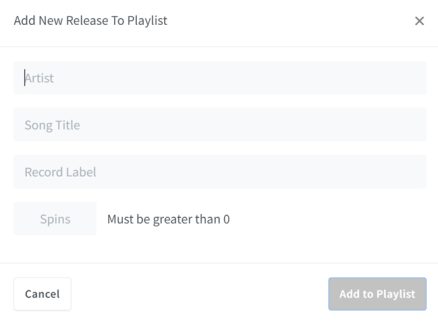 Removing songs from your playlist
Simply select the drop icon corresponding with the song you wish to "drop" from your playlist. This will place a zero spin count for the corresponding song and the song will be dropped automatically from your playlist at the end of the reporting week.
StressTrax
StressTrax are songs receiving extra attention from your listeners. StressTrax are songs which have proven to be successful for your market. You may select up to 5 Stress Trax on your playlist.