Billie Eilish is back at the format and is being welcomed with open arms. Her new "What Was I Made For?" (Darkroom/Interscope) reminds us about what a great recording artist talent she is. From the looks of things Billie should have no trouble in regaining the popularity that she already has and adding more fans to the list. Charli XCX is also finally back at radio with some real solid firepower. "Speed Drive" (Atlantic) is the jam that is attracting major attention from coast to coast and this song should serve her well.
Seems like everywhere we turn it has become a Barbie world in the Summer of 2023. So it's no surprise that we have the Nicki Minaj track with Ice Spice & Aqua taking over the music world. "Barbie World" (Atlantic-Republic-Capitol) is the song that is adding to all of this hype. The real question is, will the song actually outlive the movie? I guess only time will tell. Will.I.Am went back to the studio for a reworking of a Britney Spears song he had in his catalog. Without her having to do much more work on the track, the single "Mind Your Business" (will.i.am music, llc/Epic) is now out and about and getting action.  Zayn is also back at radio after a bit of a break. With many of his personal issues behind him for the moment, he is taking the single "Love Like This" (Mercury/Republic) out for a spin and the words on this have been rather positive. It's actually a very solid entry and if he still has his fan base intact, this song should really serve hm well. David Kushner has been building a rather solid base for his future. The single "Daylight" (Virgin) has actually been on an upward trend week after week, the sign of a very "active" single indeed.
Jain is making a bit of music history. It seems that the single "Makeba" (Sony France/Spookland) came out of nowhere to break wide-open. Being a bit of a world breakout, the song is finding favor here with the US audience and appears to be well on its way to hit record status. I'm happy to see Jelly Roll on the AC40 charts and beyond. "Need A Favor" (Stoney Creek) has already topped the country charts and now it's spreading to many additional formats where it's being welcome in a very big way. You go Jelly Roll.  Taylor Swift keeps breaking hit after hit. Now she and her team are on with "Cruel Summer" that made its way to the top of the charts in record time. "Karma" (Republic) also hit the top just as she closes out the first leg of her record-breaking stellar tour. Who would have thought that when we covered her years back at the CRS that she would have turned into such a major star. You don't hear the name Mike Borchetta much with regards to Taylor these days, but he got this entire thing started and deserves a lot of credit. Without Mike giving her the brilliant start up we wonder if any of this would have ever happened. Timing is everything and everything is Taylor Swift these days.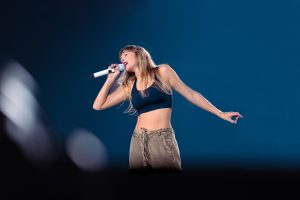 Melanie Martinez is really making quite the name for herself. "Void" (Atlantic) is the song that is putting her on the map and in a very big way. Our panel of music and program directors continue to sing her praises and that is most certainly helping her out in a very big and positive way. The new duo of Cabela & Schmitt has a good thing going and make no mistake about that. "This Is My Life" (C&S Music) is the jam that is making some magic for them. It might be the moment to spend a little time reviewing this masterpiece.  Eileen Carey has had a stella run with her current hit single "Land With You" (RolleyCstr Music). This gem that I'm referring to has our panel supporting her efforts 100%. John McDonough has a good thing going as his "We'll Answer The Call" (MTS) makes some rather bold and beautiful chart moves. He's an amazing talent to be sure.
DK Davis is off to the races with his new "Don't Cry Daddy" (Route 66/AMG) and a big congrats goes out to DK. He so deserves all the success that life has to offer. Tim St.Clair is fast becoming a real name at radio. His debut for us here in "It's So Easy" (TCS) has been one of the bright spots to far in 2023. And when speaking of bright spots, we have to give Brandiwyne credit for her amazing debut in "Anime Baby" (World Movement).