Indie artist Oliver Anthony is taking Country by storm with his single "Rich Men North Of Richmond". The world is paying quite a bit of attention to this newcomer which we expect radio to jump on board with. Jason Aldean sort of fell into one of his biggest songs to date. "Try That In A Small Town" (Macon Music/Broken Bow) has become quite the anthem of the year and it may have been all just a thing called fate. The big to-do about this song is really quite overblown but in this time of cancel culture and the like, it makes sense that this has become one of his biggest songs ever. We can remember a time when both Jason and his label Broken Bow relied quite heavily on New Music Weekly in the early days when he was ignored by the bigger charts. So it's only fitting that we would be cheering him on over all of this.
Megan Moroney has a real breakout with a single that is taking the Country world by storm. "I'm Not Pretty" (Columbia Nashville) is the jam that I'm referring to and what a big single this has become. I believe that this song has #1 written all over it. The pairing of Mickey Guyton & Kane Brown has turned into something quite special. "Nothing Compares To You" (Capitol Nashville) was released just in the nick of time and our panel of music and program directors are all over this one big time. Morgan Wallen is just too hot to handle. He and his label have been pumping out singles like hotcakes. His song "Thinkin' Bout Me" (Big Loud/Mercury/Republic) appears to be at the top of their list and is fast becoming the favorite on many program directors lists as well. I really love that new Hannah Ellis song. I'm not sure if it just makes me thirsty but the track "Wine Country" (Curb) makes me grab some cheese and pour me a glass.
Nate Smith has got a good thing going and he wants the world to know all about it. "World On Fire" (RCA Nashville) is the single that everybody appears to be raving about and for good reason, it's just that great. Corey Kent is also getting raves and praise from coast to coast. "Something's Gonna Kill Me" (Combustion/RCA Nashville) is something I tell myself all the time but if you are looking for a message in a bottle this really tells the tale. Sam Hunt is still as hot as ever. His new "Outskirts" (MCA Nashville) keeps him well above the pack and this one is the real deal. Brett Young has been slowly building his single "Dance With You" (BMLG). If you are not on this gem what are you waiting for? Dan + Shay are keeping their hot streak alive. "Save Me The Trouble" (Warner/WAR) is their latest and it's another masterpiece from this duo that does it all first class.
Carly Pearce is keeping her fans happy as can be. In addition to live shows and lots of media and press she is taking the single "We Don't Fight" along with Chris Stapleton (Big Machine) out for a spin and the results are quite amazing. We first caught up with her years back at CRS for a Big Machine event and knew from the moment we hears her that something rather special was in the works. Carly has not let us down so far.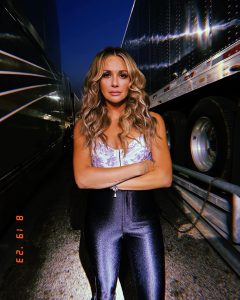 Clark Ford and the fabulous Underground Treehouse are taking the Country Indie charts by storm with "I Don't Want To Work Today" (Clark Ford Music). Bekka Dowland is breaking fast and furious. Her new single "Malibu" (Ni Music) is fast becoming a favorite among our music and program directors. This is a true sign that something rather special is in the works. NMW favorite Rob Georg has another hit single on his hands. Many are singing the praise of his new "Won For Y'All" (Coast) to fabulous results. Tommy Rice has teamed up once again with Patricia Barrett for another brilliant offering. "Life Without Your Love" (Tommy Rice Music) is being met with great enthusiasm. Tommy is one of the best out there and we just love him. Jimmy Nash is bringing it home with the single "Green" (Cloverdale Music) that is really quite a brilliant offering.  Robert Eskridge is taking the single "Takes" (Bucket List) out for a spin and it's pure magic. Jeremy Parsons has another big single on his hands with "Life Worth Dyin' For" (MTS). Jeremy put it all out there with this gem and make sure to power this one in overdrive. For this Fall Music Preview we are bringing you the very best so spin away my good friends as the very best is yet to come as we get close to the finish line of 2023.