Doja Cat is putting her very best foot forward as we wind down to the fourth quarter. Many of our programmers are singing the praises of her new "Paint The Town Red" (Kemosabe/RCA) and for good reason, it's just that good. You may want to pay special attention to this standout track. The very big pairing of Diplo, Jessie Murph & Polo G has turned into something quite special. "Heartbroken" (Columbia) is the jam that I'm referring to. This really works well for this crew and the early numbers let us know the real truth.  Travis Scott has teamed up with Bad Bunny & The Weeknd for a real solid musical experience. "K-POP" (Cactus Jack/Epic) is just so catchy that you can't stop listening to it. The production is first rate and with this powerhouse team it's only going to get better. As the team thing goes, we have to mention Jung Kook & Latto as they bring some firepower to the charts. "Seven" (big hit/Geffen/Interscope) is the single that is lighting up the phones from coast to coast. It's a great track that deserves some additional love and care.
Doechii has a good thing going and make no mistake about that. "What It Is (Block Boy)" (TDE/Capitol) has really shown some major growth over the past few weeks which is an indication that a real hit is on the works. I'm also seeing and hearing some great things about Noah Kahan. The single "Dial Drunk" (Mercury/Republic) has really opened up a lead among the many songs out there. This one has Top5 (or better) written all over it.
How are your NewJeans? Pretty good if we are talking about the red-hot single called "Super Shy" (Interscope). This track came out of left field and appears to be well on its way to bigger and better things. And leading neck and neck in the fast-breaking hit circle is the act Alice The Goon, Yes, you heard that right people and the "goon" is taking the song "CYA" (Rage Baby) out for a ride on the charts where its doing blockbuster biz.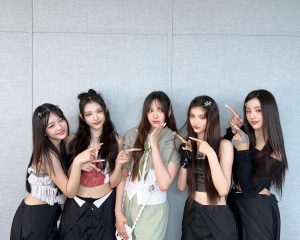 Harry Styles continues his reign at the format with his current "Satellite" (Columbia).  Gracie Abrams has proven her point as her "I Know It Won't Work" (Interscope) has really put her on the map. Adding to that a few dates with Taylor Swift and you can't possibly have a better summer than that. NF are back at another Top40 gem in "Happy" (Real Music/Virgin) that we just love around here.
If it's solid indie music you are favoring, look no further than JusJae. The single "Need You" (Street Corner/Crank Music) has been a solid mover since week #1, a sign that there are even better days ahead. TJ Doyle has been making magic with the single "Meant To Be Together" (Totem Artists) that appears to be heading to the top. John Jurney has also been basking in the glory of great chart positions. "Not Enough You" (Most Likely Music) has been a solid mover and shaker from the first week it came out.  Fifty Fifty is getting raves and praise for the new and improved single "Cupid" (Warner).  Toosii is setting the radio world on fire with "Favorite Song" (SCMG/Capitol) and what a great song this is indeed. Bakar is really the "one to watch" as his single "Hell N Back" (Black Butter/Epic) breaks free.  PT The Gospel Spitter w/Stephen Voyce has been a strong survivor for many weeks. The single "Kingdom" (Serving The Peace) is really winning the hearts and minds of music lovers everywhere. I'm also happy to see that Livvy D has a solid hit. "Take A Number" (1FABLIV) has really blown up big time and the single gets better every week.  New rising star McKenna Mix has really taken off in a very big way, "Lucid" (Ni Music) is the gem that I'm referring to and what a great production and song this is. The young and ever so talented Toni Grace is breaking fast and furious. "Summertime" (Ni Music) is just in time for the end of what has been a very hot and wild summer. Radio is saying great things and that's all we need to hear. Zpextre has also made a huge mark at the format. "Souvenir" (Zust) is his debut single and you can't ask for a better showing for a new artist than this. Our Fall Music Preview is in full swing so are you ready?